Welcome to Bangkok Bilingual School!
Important Announcements
BBS Community
The first-ever BBS Football Saturday Club was held last Saturday, 20 July 2019.

To promote enhanced community engagement in Bangkok Bilingual School, we have recently launched a series of friendly football matches which involved students from G1 to G6, along with their parents cheering on the sidelines and teachers facilitating the games. The event drew immense support, and concluded successfully.

This activity encourages not only sportsmanship, but camaraderie and a sense of community in our school. We plan to make this a regular activity in the weeks to come.
PreK-K3 and G1-G7 Enrolment Application 2020
Application Period
Now ongoing
Office Hours
07.00 - 17.00 Hours (Monday-Friday)
07.30 - 13.00 Hours (Saturday)
Required Documents
1. 1 photograph sized 2 inches
2. A copy of birth certificate and passport (if available)
3. A copy of House Registration, where the student is residing
4. A certificate from the former school
5. A copy of report card (Kindergarten level)
6. A copy of report card (Primary level)
7. Transcript of record (Primary level) from the former school
8. A copy of I.D. card and passport (if available) of father and mother (or guardian)

Online Academic Reports
Individual student academic reports are available online! Simply login below!

If you do not have your username and/or password, please contact us at
Kindergarten: 02-690-3471 or info@bbs.ac.th
Primary: 02-274-2902 or primary@bbs.ac.th
2 - 13 November 2020

Progress Assessments (K2 - K3)

11 and 13 November 2020 (Wednesday & Friday)

Final Examinations (G1 - G7)

16 - 30 November 2020

Mid-Year Break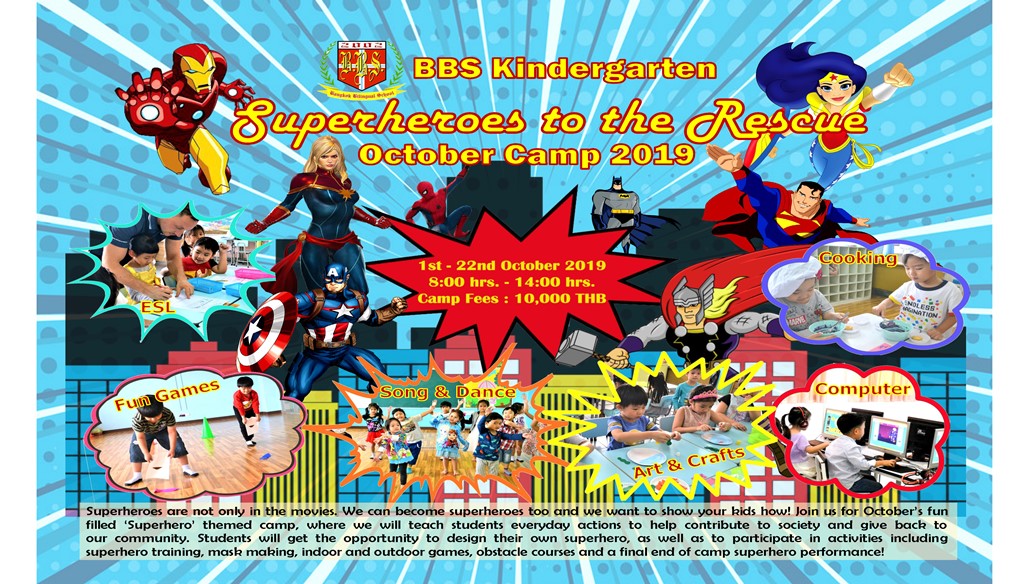 Superheroes to the Rescue
BBS October Camp 2019 (Kindergarten)

Photos: Week 1 | Week 2 | Week 3
Photos: Field Trip
Photos: Closing Programme



BBS Discovery October Camp 2019 (Primary)

Photos: Weeks 1 | Week 2 | Week 3
Photos: Kidzania Field Trip
Photos: Closing Programme



More Facebook Pages:


BBS Kindergarten