Welcome to Bangkok Bilingual School!
Important Announcements
Announcement of School Holidays in July 2022


The school will be closed on the following days:
1. 13th to 15th July 2022
• Wednesday, 13th July 2022 – Asalha-Puja Day
• Thursday, 14th July 2022 – Buddhist Lent Day
• Friday, 15th July 2022 – Extra holiday announced by the Cabinet
2. Kindergarten Department will be closed between 11th and 15th July 2022 inclusive for mid-term break.
Students will resume school on Monday, 18th July 2022.
3. 28th and 29th July 2022
• Thursday, 28th July 2022 – H.M. King Maha Vajiralongkorn's Birthday Anniversary
• Friday, 29th July 2022 – Extra holiday announced by the Cabinet
Students will resume school on Monday, 1st August 2022.
Change of Covid-19 ATK Swab Testing to weekly schedule


Effective June 2022, ATK swab testing schedule must be conducted weekly. Students are required to take a swab test at home every Sunday, starting Sunday 5th June 2022 and provide the test result before 18.00 hours. The test result is compulsory for attending school on Monday. Please write the name and the test date on the test cassetteand send the test result to school:
Kindergarten Level
, please send to Seesaw or by email at info@bbs.ac.th
Primary and Secondary Levels
, please send to Seesaw
Note: There will be no ATK testing service at school.
Bangkok Tawiwit Bilingual School, a Cambridge International School
Now accepting applicants for Academic Year 2022 from Pre-Kindergarten to Grade 9

Kindergarten Programme offers a bilingual English-Thai curriculum, ratio of English: Thai activities 50:50
Primary and Secondary Programme integrates the Thai national curriculum with Cambridge International syllabus
- For Primary, up to 60% in English subjects
- For Secondary, up to 70% in English subjects, Activity-based learning
- plus IGCSE and A-Level preparations for students who plan to study international programme in local universities or overseas
For further information, please contact the Administration Office:
Telephone: 02 274 2902 or 096 502 6675, Email: info@bbs.ac.th
BBS has become a registered Cambridge International School as of the Academic Year 2021!

We are excited to announce that BBS has become a registered Cambridge International School, as of June 2021!

The Cambridge pathway will enhance the school curriculum to an international standard, provide professional development for teachers and allow BBS to apply the Cambridge assessment of teaching and learning.








Welcome to Bangkok Tawiwit Thai-English Bilingual School!

Bangkok Tawiwit School provides a quality educational programme that supports the development of every child to the maximum of their potential. We provide an engaging, responsive learning environment that develops knowledgeable, caring, adaptable and eager learners. The school is designed and equipped to deliver English and Thai programmes for Pre-Kindergarten to high school levels. The school has established a learning process with a broad perspective that constantly develops according to teacher and student requirements, which will impart a lifelong love of learning. In the primary years our students are loved and cared for, and taught academic foundations by focusing on literacy and numeracy. As students progress to secondary and high school levels, they are guided towards further study in university and career path ensuring future success.

We are implementing the Cambridge International Curriculum from Grade 1

The curriculum concentrates on the core subjects of English, Mathematics and Science, which are taught alongside Thai Language, Technology, Social Studies, Creative Arts, Health and Physical Education.

Preparation for the Future

Our middle school programme offers a rigorous curriculum focusing on STEAM Education, a modern approach to learning which emphasises teaching Science, Technology, Engineering, Art and Mathematics in an interdisciplinary and applied approach. It is designed to equip students with the necessary knowledge and skills to succeed in high school and into the future, by positively influencing this diverse and rapidly changing world.


BBS Community
The first-ever BBS Football Saturday Club was held last Saturday, 20 July 2019.

To promote enhanced community engagement in Bangkok Bilingual School, we have recently launched a series of friendly football matches which involved students from G1 to G6, along with their parents cheering on the sidelines and teachers facilitating the games. The event drew immense support, and concluded successfully.

This activity encourages not only sportsmanship, but camaraderie and a sense of community in our school. We plan to make this a regular activity in the weeks to come.
PreK-K3 and G1-G9 Enrolment Application 2022
Application Period
Now ongoing
Office Hours
07.30 - 16.00 Hours (Monday-Friday)
Required Documents
1. A photograph sized 2 inches
2. A copy of birth certificate and passport (if available)
3. A copy of House Registration, where the student is residing
4. A certificate from the former school
5. A copy of report card (Kindergarten level)
6. A copy of report card (Primary level)
7. Transcript of record (Primary level) from the former school
8. A copy of I.D. card and passport (if available) of father and mother (or guardian)

Online Academic Reports
Individual student academic reports of Semester 2/2021 for Primary and Secondary students are available online!Simply login below!

If you do not have your username and/or password, please contact us at
Kindergarten: 02-690-3471 or info@bbs.ac.th
Primary: 02-274-2902 or primary@bbs.ac.th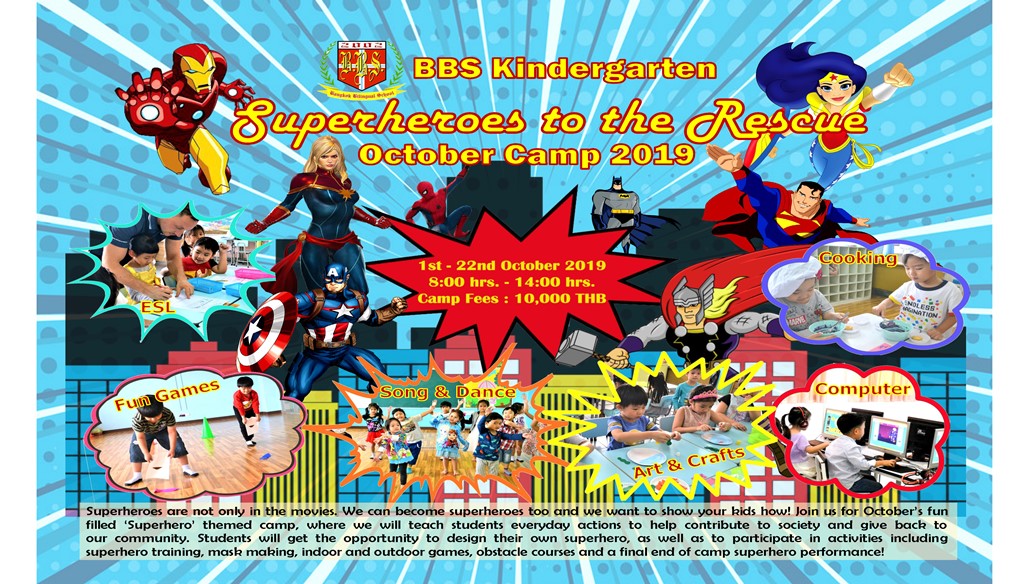 Superheroes to the Rescue
BBS October Camp 2019 (Kindergarten)

Photos: Week 1 | Week 2 | Week 3
Photos: Field Trip
Photos: Closing Programme



BBS Discovery October Camp 2019 (Primary)

Photos: Weeks 1 | Week 2 | Week 3
Photos: Kidzania Field Trip
Photos: Closing Programme



More Facebook Pages:


BBS Kindergarten