Welcome to Bangkok Bilingual School!
Important Announcements
Announcement of BBS Google Classroom Online Learning
Grades 1-8
17th - 31st May 2021

Due to the current outbreak of Covid-19, the start of the new academic year 2021 has been delayed until 1st June 2021, as instructed by the Ministry of Education. In the meantime, the school will launch a temporary supplementary online learning programme for students in Grades 1- 8. The online learning sessions will be held between the 17th and 31st May 2021.

1. Grade 2 - 8 students can get BBS email account and password to log into Google Classroom from the school website: www.bbs.ac.th. Simply use your Online Academic Reports Username and Password to log in. If you do not have these, please contact the Administration Office.

2. For Grade 1 and new students who have enrolled in this academic year, the class advisors will contact their parents by telephone to give online learning guidance. Please be prepared to receive a call from the class advisors as of the 10th May 2021.

3. The online activities will be Live Streaming sessions. Students will receive their class schedule on the first day of the programme. There will be 4 sessions daily, Monday to Friday, 08.00-13.50 hours. For students who are unable to join real time classes, the school will upload VDO for them to study at their convenient time.

4. The school has prepared an online learning pack for each student. Parents are requested to collect their children's materials from school as of the 12th May 2021, between 08.00 and 16.00 hours. If you are not available, please contact the school administration for assistance.

PDF Format: BBS Online Learning 1-2021 (G1-G8) - English

For further information, please feel free to contact the Administration Office. Parents who require assistance using Google Classroom Platform are welcome to visit the school. Our staff will be pleased to assist you.
Administration Office: phone: 02 274 2902 or 096 502 6675, Email: info@bbs.ac.th


Announcement of BBS Administration Office Working Hours between 1st and 31st May 2021

BBS Administration Office Working hours between 1st and 31st May 2021
Monday – Friday: 08.00-16.00 hours
Closed on Saturdays, Sundays and Public holidays

通知:
关于BBS管理办公室2021年5月1日至31日工作时间的公告。

BBS管理办公室的工作时间为2021年5月1日至31日。
星期一至星期五:8.00-16.00。
星期六以及法定节假日为休日


Postponement of the Opening Dates of Semester 1/2021

1. The commencement of the first term of the new academic year 2021

The commencement dates of semester 1 of the academic year 2021will be postponed to June 1, 2021 onwards as recently announced by the Ministry of Education. The delay is due to the current coronavirus-19 outbreak. BBS school dates of semester 1/2021 will be as follows:

Kindergarten Level
Pre-Kindergarten and Kindergarten 1
1st to 4th June 2021: Preparatory Course (07.50 – 14.00 hours)
(The school will be closed on Thursday, 3rd June 2021 in observance of the anniversary birthday of H.M. Queen Suthida).
From 7th June 2021 onwards: Regular School (07.50 – 14.00 hours)

Kindergarten 2 -3
7th June 2021 (07.50-14.10 hours)

Primary and Secondary Levels : Grades 1-8
1st June 2021 (07.50 – 15.30 hours)

2. The earlier scheduled preparatory course of Pre-Kindergarten, Kindergarten 1 and Grade 1 (10th – 14th May 2021) will be cancelled.

3. The BBS Back-to-School Workshop scheduled between 12th and 14th May 2021 will also be cancelled.

The above opening schedule is subject to change as appropriate. Please update the information from www.bbs.ac.th or contact:
02 690 3471, 081 901 4725 (Administration and Kindergarten)
02 274 2902, 096 502 6675 (Primary and Secondary)
Monday-Friday: 08.00-16.00 hours
Saturday: 08.00 -12.00 hours
Sunday and public holidays: closed


ประกาศเลื่อนการสอบแข่งขัน 2nd TESET English Test

เนื่องจากสถานการณ์โรคระบาดโควิด-19 ในระยะนี้ เพิ่มความรุนแรงยิ่งขึ้น บ.อคาเดมิค คอนเทสต์ (ประเทศไทย) จำกัด ได้ประกาศเลื่อนการสอบแข่งขัน 2nd TESET - Thailand English Skills Evaluation Test ออกไปก่อนโดยไม่มีกำหนด


Welcome to Bangkok Tawiwit Thai-English Bilingual School!

Bangkok Tawiwit School provides a quality educational programme that supports the development of every child to the maximum of their potential. We provide an engaging, responsive learning environment that develops knowledgeable, caring, adaptable and eager learners. The school is designed and equipped to deliver English and Thai programmes for Pre-Kindergarten to high school levels. The school has established a learning process with a broad perspective that constantly develops according to teacher and student requirements, which will impart a lifelong love of learning. In the primary years our students are loved and cared for, and taught academic foundations by focusing on literacy and numeracy. As students progress to secondary and high school levels, they are guided towards further study in university and career path ensuring future success.

We are implementing the Cambridge International Curriculum from Grade 1

The curriculum concentrates on the core subjects of English, Mathematics and Science, which are taught alongside Thai Language, Technology, Social Studies, Creative Arts, Health and Physical Education.

Preparation for the Future

Our middle school programme offers a rigorous curriculum focusing on STEAM Education, a modern approach to learning which emphasises teaching Science, Technology, Engineering, Art and Mathematics in an interdisciplinary and applied approach. It is designed to equip students with the necessary knowledge and skills to succeed in high school and into the future, by positively influencing this diverse and rapidly changing world.


Information for Parents of Grade 1 Students for Academic Year 2021


BBS Community
The first-ever BBS Football Saturday Club was held last Saturday, 20 July 2019.

To promote enhanced community engagement in Bangkok Bilingual School, we have recently launched a series of friendly football matches which involved students from G1 to G6, along with their parents cheering on the sidelines and teachers facilitating the games. The event drew immense support, and concluded successfully.

This activity encourages not only sportsmanship, but camaraderie and a sense of community in our school. We plan to make this a regular activity in the weeks to come.
PreK-K3 and G1-G7 Enrolment Application 2020
Application Period
Now ongoing
Office Hours
07.00 - 17.00 Hours (Monday-Friday)
07.30 - 13.00 Hours (Saturday)
Required Documents
1. 1 photograph sized 2 inches
2. A copy of birth certificate and passport (if available)
3. A copy of House Registration, where the student is residing
4. A certificate from the former school
5. A copy of report card (Kindergarten level)
6. A copy of report card (Primary level)
7. Transcript of record (Primary level) from the former school
8. A copy of I.D. card and passport (if available) of father and mother (or guardian)

Online Academic Reports
Individual student academic reports are available online! Simply login below!

If you do not have your username and/or password, please contact us at
Kindergarten: 02-690-3471 or info@bbs.ac.th
Primary: 02-274-2902 or primary@bbs.ac.th
1 February (Monday)

School Reopen

26 February (Friday)

Holiday (Makha Puja Day)

9 April (Friday)

Last Day of School Year 2020

12 April - 16 May

Summer Holiday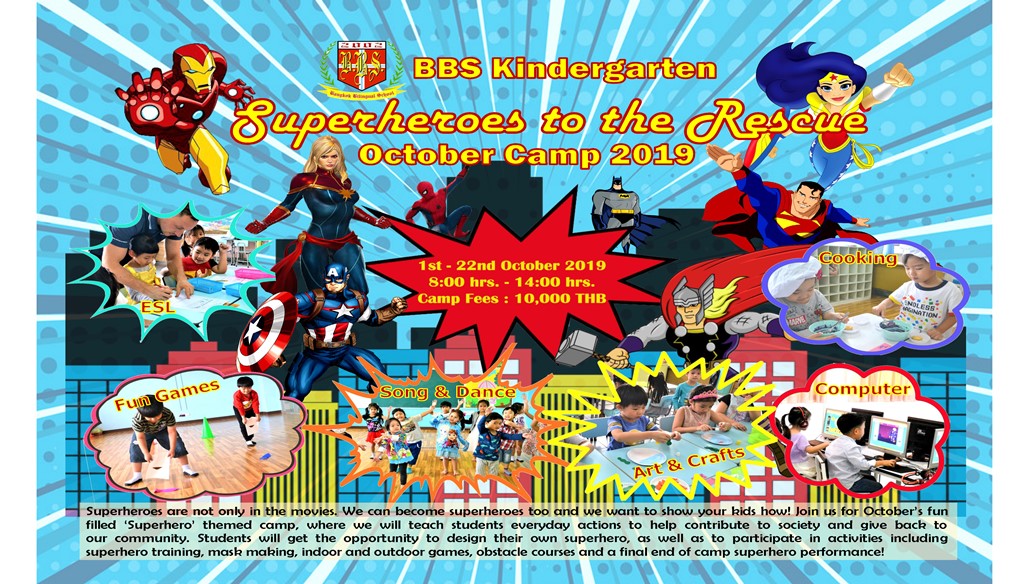 Superheroes to the Rescue
BBS October Camp 2019 (Kindergarten)

Photos: Week 1 | Week 2 | Week 3
Photos: Field Trip
Photos: Closing Programme



BBS Discovery October Camp 2019 (Primary)

Photos: Weeks 1 | Week 2 | Week 3
Photos: Kidzania Field Trip
Photos: Closing Programme



More Facebook Pages:


BBS Kindergarten